As from Friday 27 March 2020, all South Africans have been restricted to their homes during the lock-down period. In a time like this, it is great peace of mind knowing that your loved ones are in a safe place. At Macadamia Care in Nelspruit – Mpumalanga, we thought we'll let you have a glimpse of what our staff and residents are doing in this time of isolation. Have a look.
Members of staff are ready for the lock-down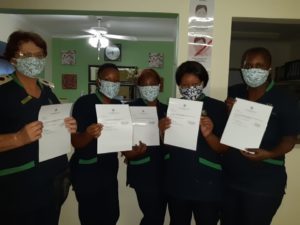 Mrs Hoogkamer and other residents make time for some fresh air but they wear their masks and take the social distancing seriously.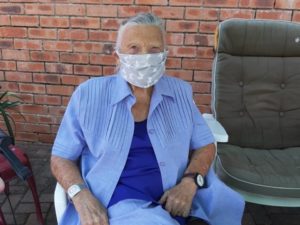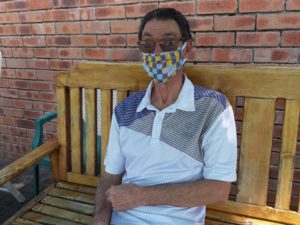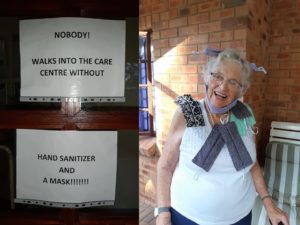 One of our residents – Mrs Valpre Smit, kindly made washable face masks and we are very grateful. Thank you!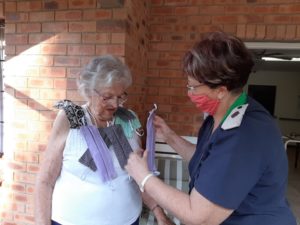 Look at this beautiful, delicate work. Mrs Frannie De Bruyn is keeping herself busy with embroidery during the lock-down period.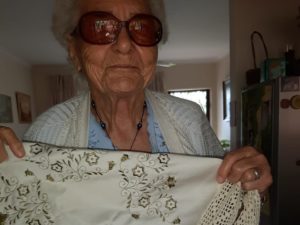 How can you not have flowers on your birthday? Here in Nelspruit we make sure our residents feel cared for and special on their birthday, even though it's lock-down for all.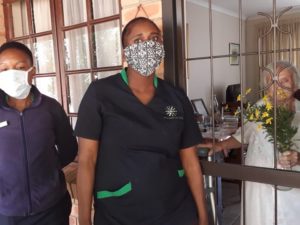 It is important to keep our elderly occupied during self-isolation. Sister Petro did her rounds and handed out puzzles to our residents.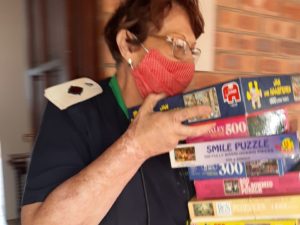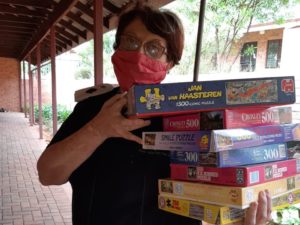 All our staff and residents are now in possession of a face mask.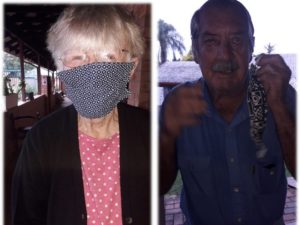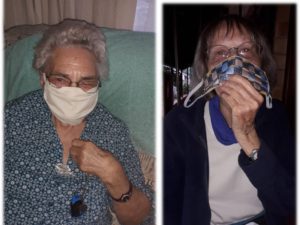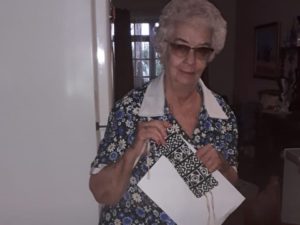 Sister Heide-Marie Archer: "It is difficult for our residents to communicate. With being hard of hearing and wearing a mask – it is quite the challenge."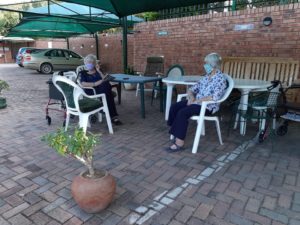 Mrs Violet Grobler turned 86 years today. As flowers are not an essential item during the lock-down period, it was impossible for her adult children to send her flowers from Dubai where they are living at present. They asked our staff to please pick some flowers and to give it to their mum. That's what we did and Violet loved it!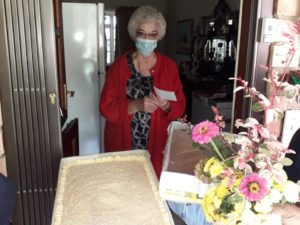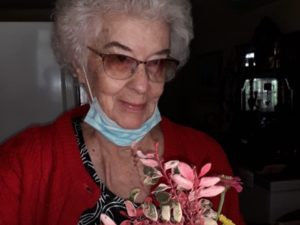 Today is Easter Sunday and our Care Manager together with Sister Petro handed out Easter cards for all the staff members who are working in this period to keep our residents safe.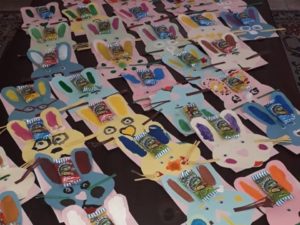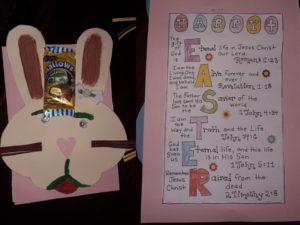 Sister Heide-Marie Archer's daughter asked her to help her colour in this beautiful puzzle.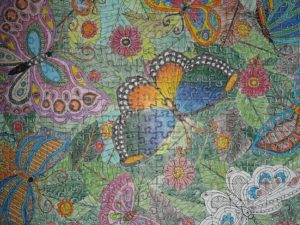 Playing the blues away…???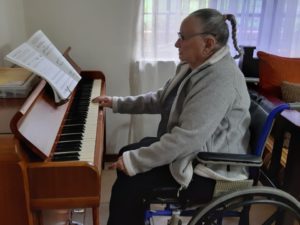 "It is Mr Scheepers' birthday. What families do to see their loved ones. I found them like this…"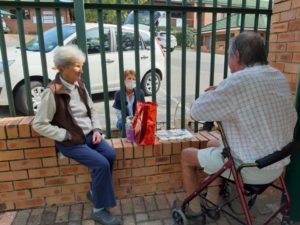 "Fresh air and Vitamin D supplementation."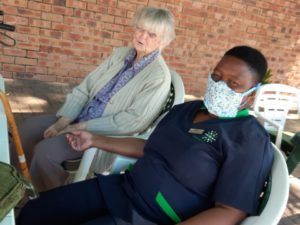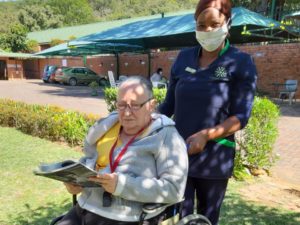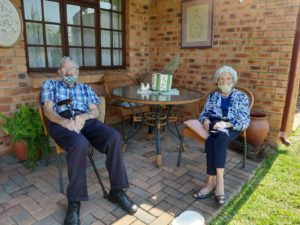 "Residents Wife bring her latest painting to show her husband, amazing talent."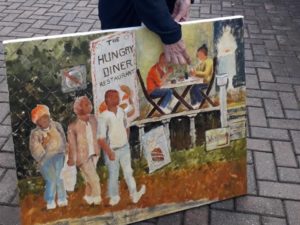 Sister Heide-Marie Archer: "On my way to work."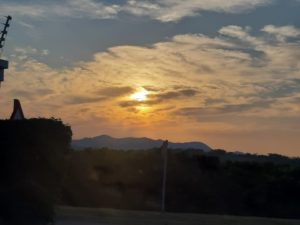 Mrs Valpre Smit celebrated her 91st birthday today. Her granddaughter decided to surprise her by bringing the great grandchildren to sing for her from their vehicle. Even though it was her birthday, she gave each one of them a slab of chocolate. Here you can see the 2 granddaughters after they gave her a home made gift. She was so surprised.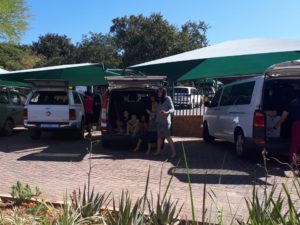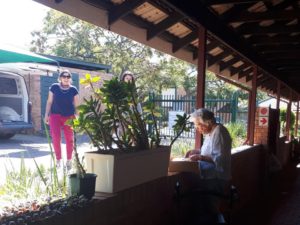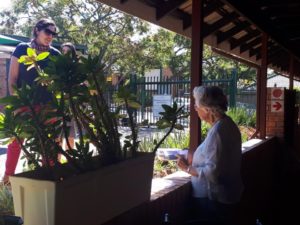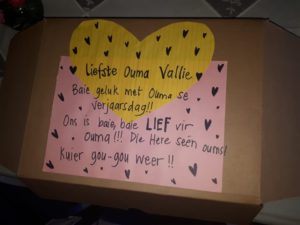 Sister Archer and her daughter were having a morning walk before work. Her daughter recons that if she can't hug people, hugging trees will have to do as it's safe and lifts the spirit.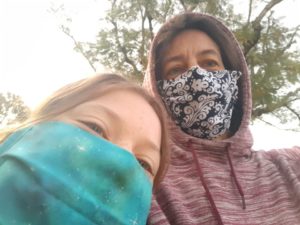 "Desperate times call for desperate measures?"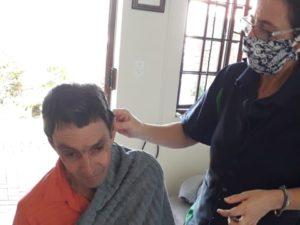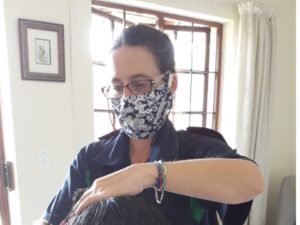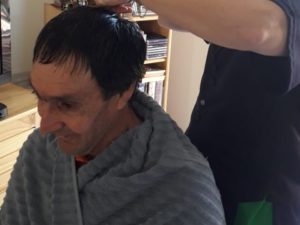 Last week, one of our residents – Mrs George, celebrated her 91st birthday. May your year be filled with love and lots of laughs Mrs George, from all of us at Macadamia Care in Nelspruit.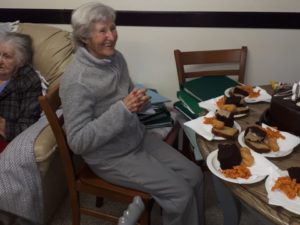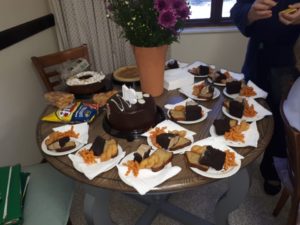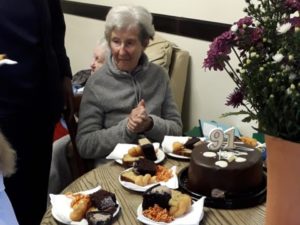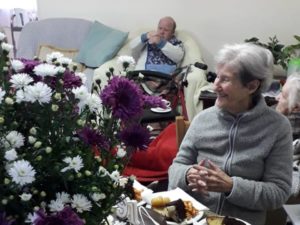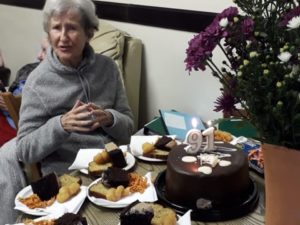 Sister Heide-Marie Archer: "A Strawberry full moon on the one side and when I turned around to walk home, the sun rising on the other."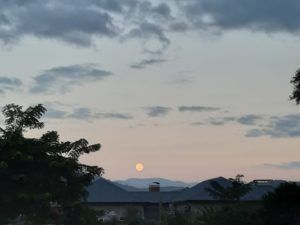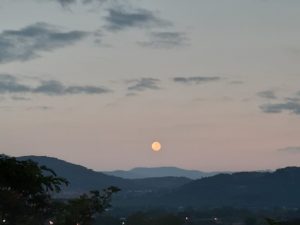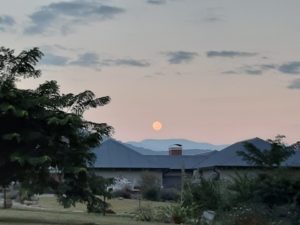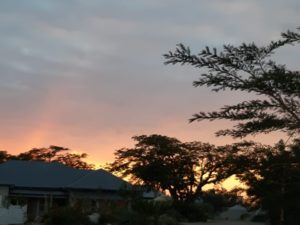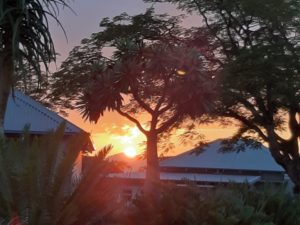 So wonderful to have our hairdressers back at work. Under strict protocols, our residents at Macadamia Care in Nelspruit, lined up to have their hair cut – bliss…!
Right now PPE training is happening at Macadamia Care in Nelspruit.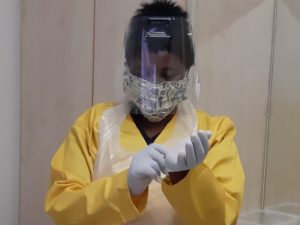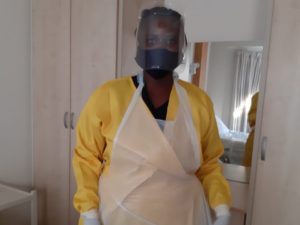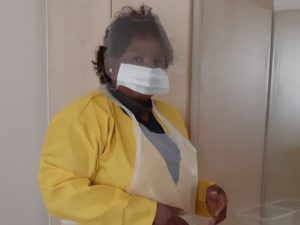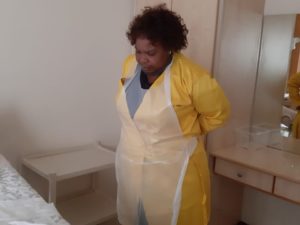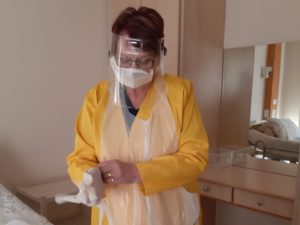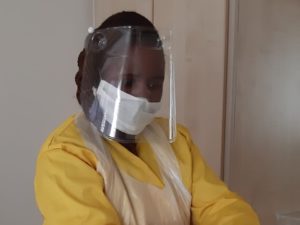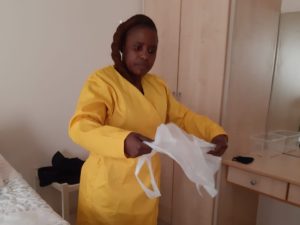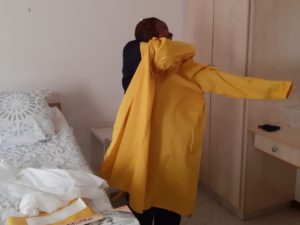 One of our residents – Ria van Zyl, recently celebrated her birthday. All the best to you Ria. May the rest of the year bring you lots of joy!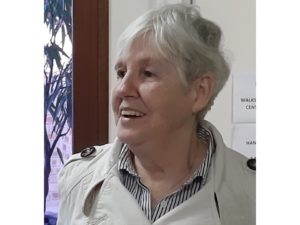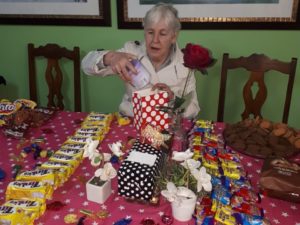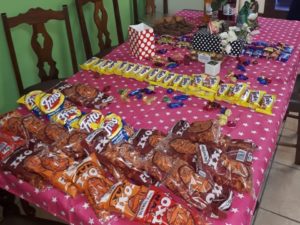 In lock-down we are all keeping busy. Have a look at this beautiful jersey that Petro Hunt knitted for her brother – a bowling jersey.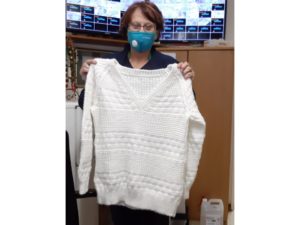 Sister Heide-Marie Archer, here's wishing you a day filled with happiness and a year filled with joy. Happy birthday from all of us at Macadamia Care!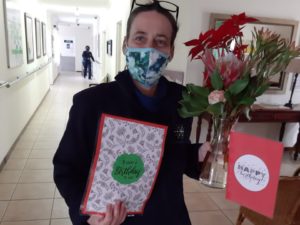 Birthday celebrations! Happiest of birthday to you Mrs Bets Pretorius who recently turned 97 years old. Her family spoiled the residents with beautiful decorations and delicious eats. All done at a safe distance, armed with masks and sanitizer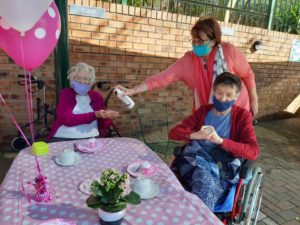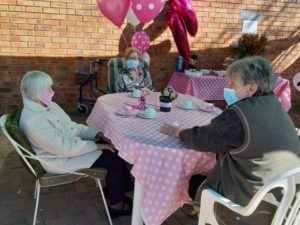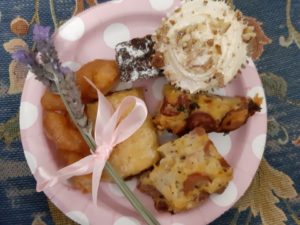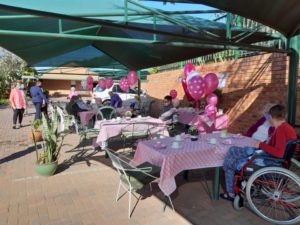 Fresh air and nail care.
Care Buddies spread their love again and spoiled our residents with some delicious eats. Thank you for your kindness and for thinking about us Care Buddies, it is so much appreciated!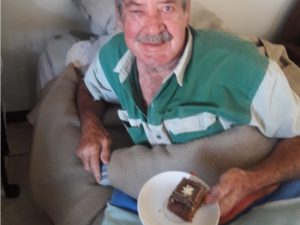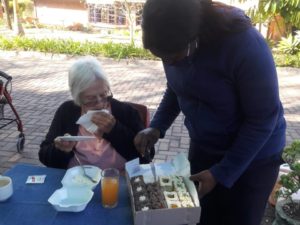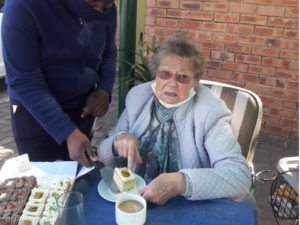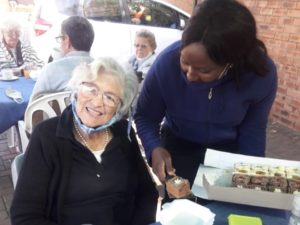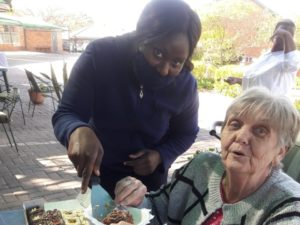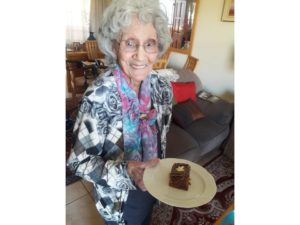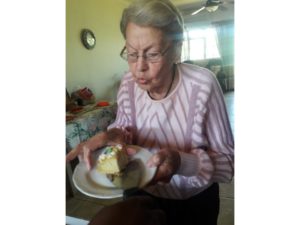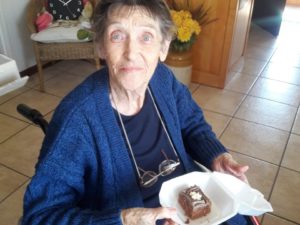 Very proud Nelspruit MacCare staff. COVID-19 training is completed with distinctions! Well done team!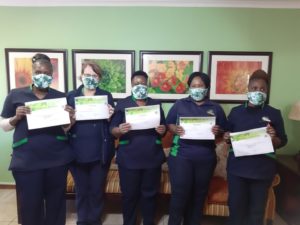 At Macadamia Care in Nelspruit our Carers go the extra mile to love and care for our residents. Their hard work and vigilance in this difficult time, do not go unnoticed and we wanted to show our appreciation by treating them to a special lunch. Thank you for your dedication and commitment!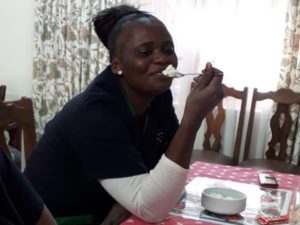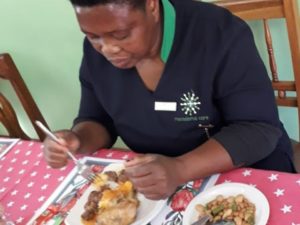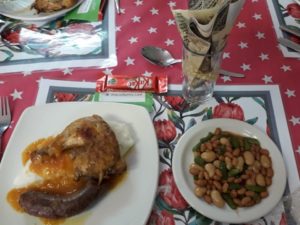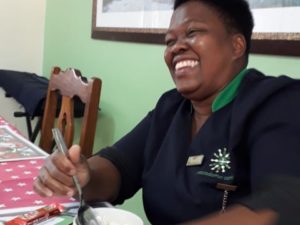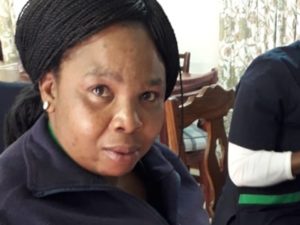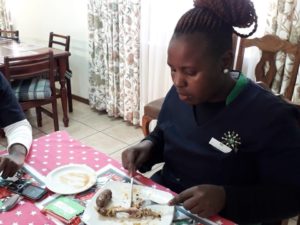 On Sunday 9 August 2020, we celebrated WOMEN'S DAY. Where there is a woman, there is magic and that rings true for all the women at Macadamia. We treated our residents to a special Women's Day lunch and everybody enjoyed it very much!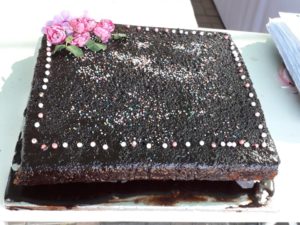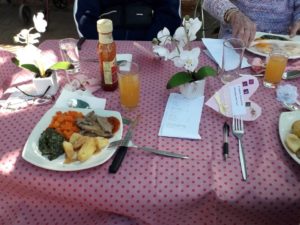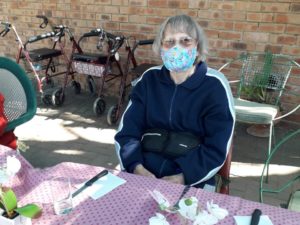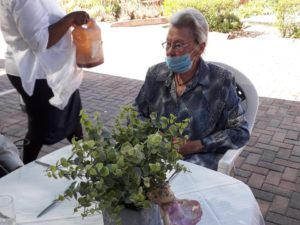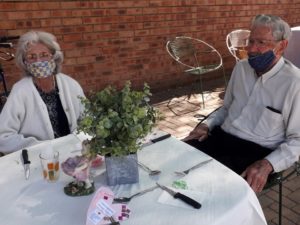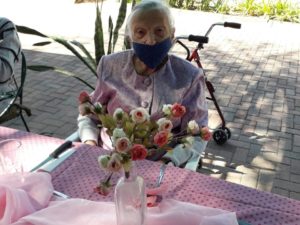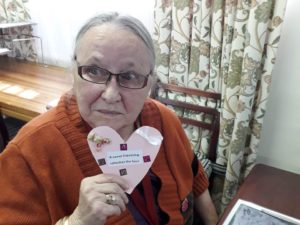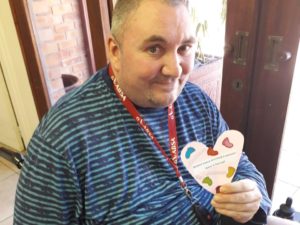 To read more about our Care Centre at Macadamia in Nelspruit, click here.
Currently our staff are operating under conditions that are much stricter than normal and are going to great lengths to protect both the residents in our care and our staff. To read more about measures within Care Centres during this lock-down period, click here.