As from Friday 27 March 2020, all South Africans have been restricted to their homes during the lock-down period. In a time like this, it is great peace of mind knowing that your loved ones are in a safe place. At Macadamia Care in Polokwane – Limpopo, we thought we'll let you have a glimpse of what our staff and residents are doing in this time of isolation. Have a look.
Mrs. Bets Booysens' daughter – Adri Booysen, made masks for all the cleaning ladies. Thank you for your kindness Adri!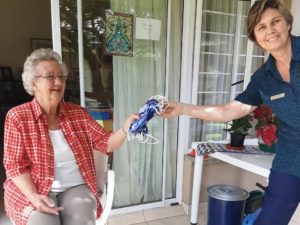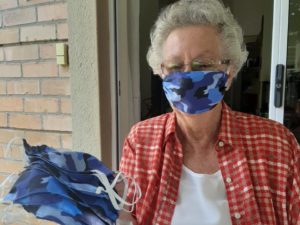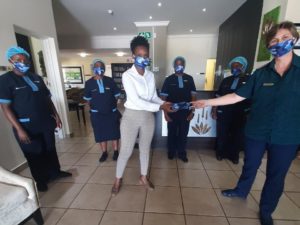 Thank you to Susan Chapman for all the masks – Security at The Aloes is very thankful!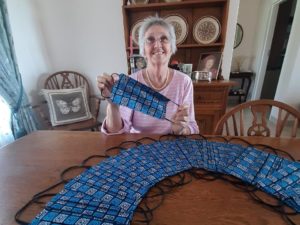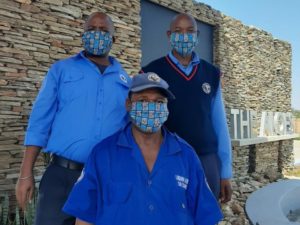 Mr. Biem du Toit from the village keeps himself busy by making stunning bird feeders!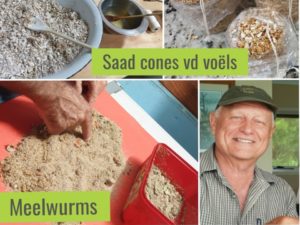 Sister Elsie Kleynhans – also a resident of Macadamia, started reading the Bible last Friday with lock-down and up to now, finished reading 12 Bible books.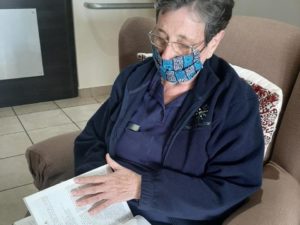 We have a vegetable patch at The Aloes. The seedlings and seeds are sponsored by The Farmyard and Greener Tidings. The Kitchen Manager and one of the residents attend to the garden. We use the veg in the meals for the residents.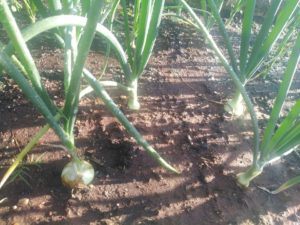 Mrs Louise Breytenbach keeps herself busy with a puzzle in the lock-down period.
Brett from Retsini Nursery donated all these lovely plants to our residents. What a kind gesture Brett and we are very grateful for this. Our residents started planting straight away!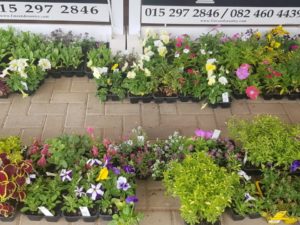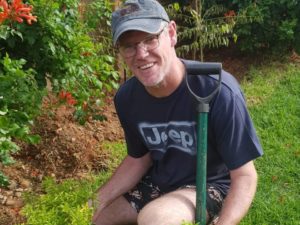 Winnie Claassens – one of our younger residents is keeping herself busy during this lock-down period. Have a look at her beautiful knitting, tapestry work, baking and scrapbooking.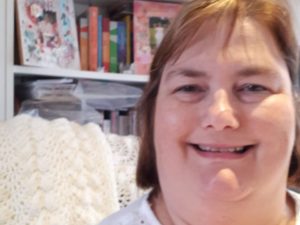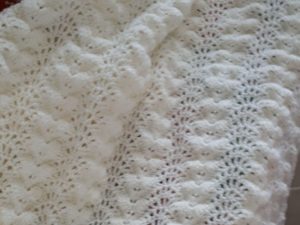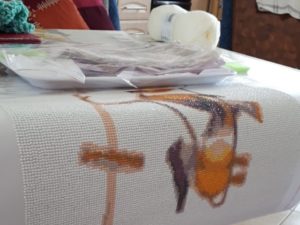 Ouma Jackie Mangokoane is 90 years today… Happiest of birthdays to you Ouma Jackie!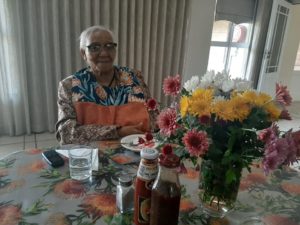 Sister Karien is keeping herself busy over weekends doing mandala colouring in. Have a look.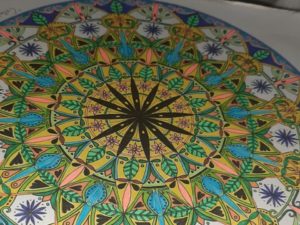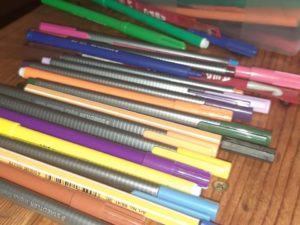 Some of the residents' families prefer to leave parcels at the gate. Sister Anna Nel usually collects it.
Cutting the lawn in lock-down – Mr and Mrs. Bierman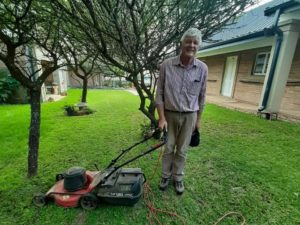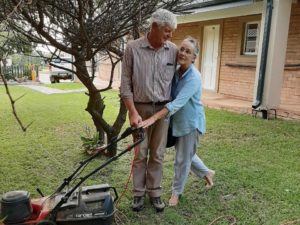 We have our very own patrollers at Macadamia Care…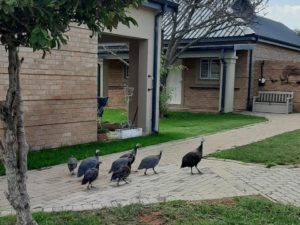 Susan in Polokwane writes: "I started sewing during the lock-down. Mostly made masks for friends and family."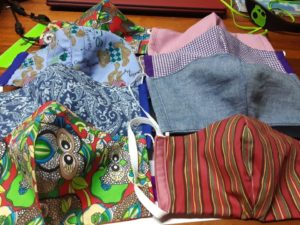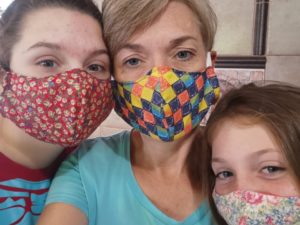 Mrs Elsa Badenhorst completed this beautiful mosaic work during lock-down.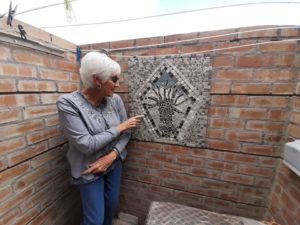 We are making some cards to the family just to let you know that we are thinking of you and that everyone is well and healthy.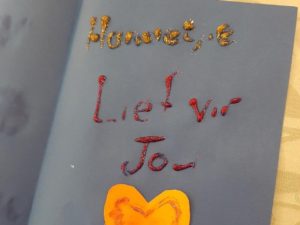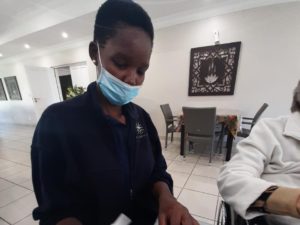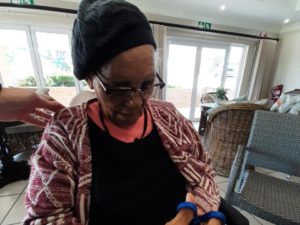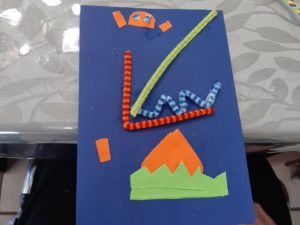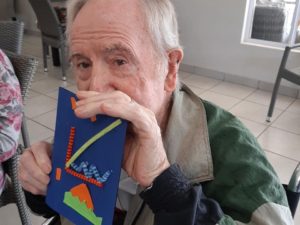 Have a look at these beauties, harvested from our very own vegetable garden.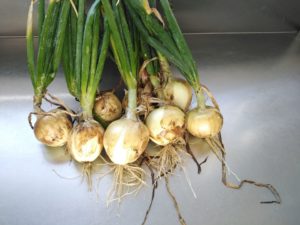 Well done Mrs. Marie Austin.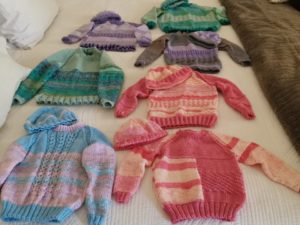 Mrs Joan Erasmus (91 years) is having her hair done and she is ready for the day.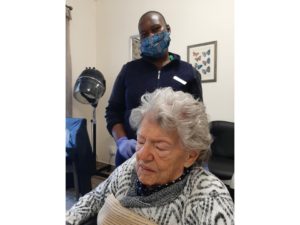 Polokwane 06h30 this morning…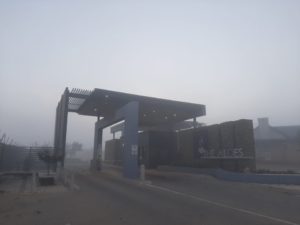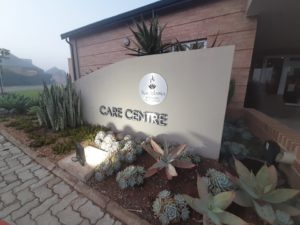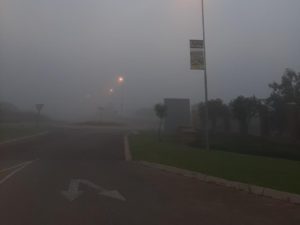 This blanket was crochet by Ms Im Coetsee during lock-down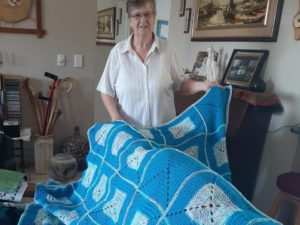 "First visit in 45 day for mother and daughter! Tears of joy…"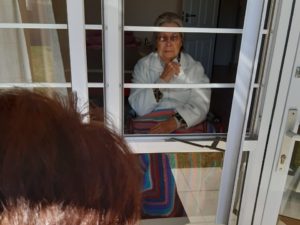 "Diamond Dot done by Winnie Claassens"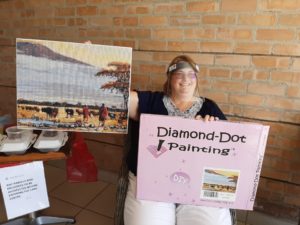 Like all of us, Mr. Vis Streicher couldn't wait to have a haircut!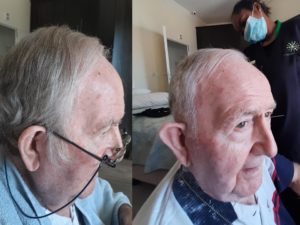 "Catering staff picking flowers to decorate the breakfast plate."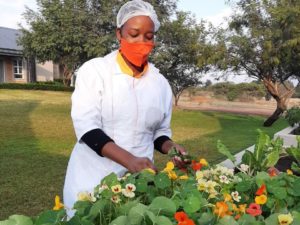 "How lucky we are at Polokwane Macadamia Care? Today was hairdresser day!"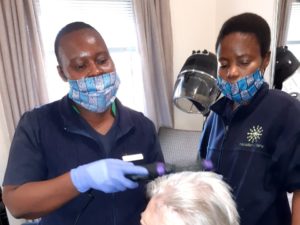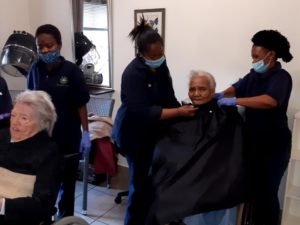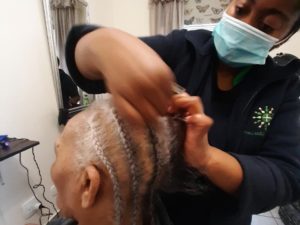 Wilma Helberg Prinsloo is making food for the birds in her garden and she is sharing her recipe. Have a look.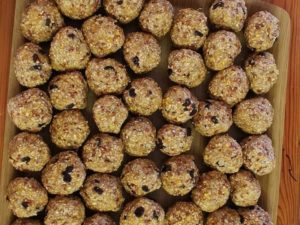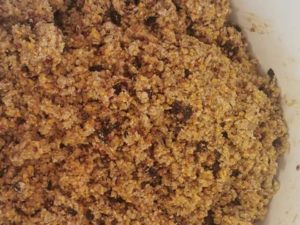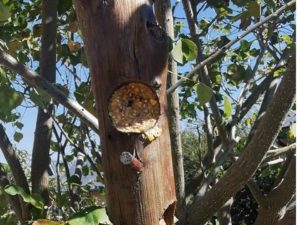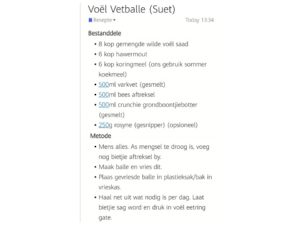 A big thank you to Mrs Marie Austen's son-in-law who donated honey to our assisted living residents.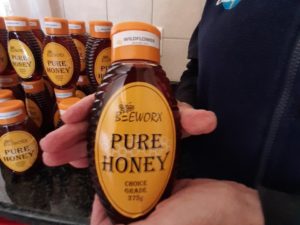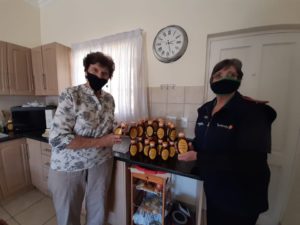 Sister Karien: "Good morning from Polokwane!"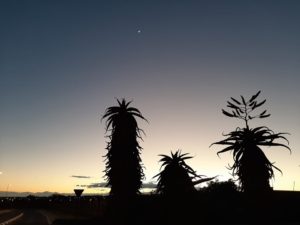 "We received this beautiful bunch of flowers and a card from Ouma Bessie's family to say thank you to the staff of Macadamia Care in Polokwane who looked after Ouma Bessie right up to the end of her days. Rest in peace Ouma Bessie."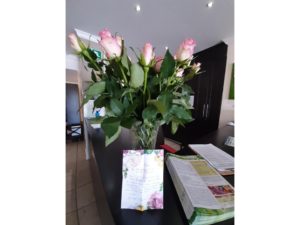 If you visit Polokwane Care Centre, there is strict control – shoe covers and a clean new mask when entering.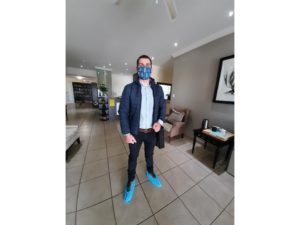 At Macadamia Care we are people who care about people.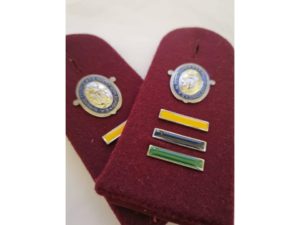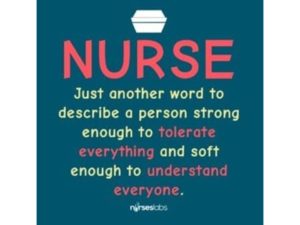 We might be under the shadow of COVID-19, but life, love and care goes on. We want to make sure our residents receive only the best in care and therefor, staff training continues.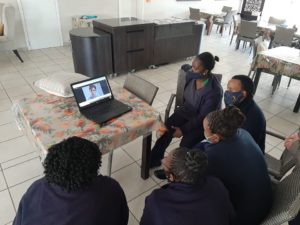 Mr and Mrs Streicher, seeing love thrive for so long and endure the test of time is not only heart-warming, it's inspirational.
Here in Polokwane we want to make it easier for our residents to have access to the library. On this beautiful sunny day we presented them with library on wheels and it was much appreciated.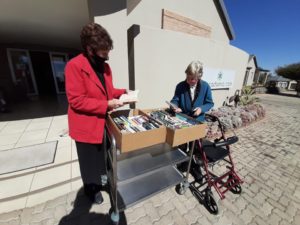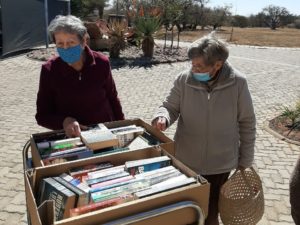 Look at these beauties! Thank you Mr Hillary for your generous avocado donation!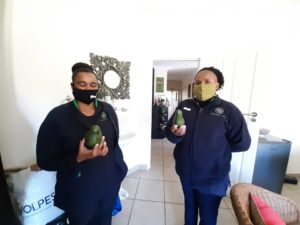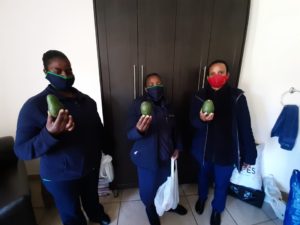 We all know that exposure to sunlight stimulates vit D in the skin & older people are more likely to have a vitamin D deficiency due to the natural aging process & changes in lifestyle. At Macadamia Care our residents love their outdoor time.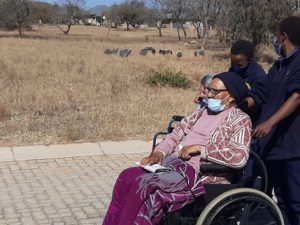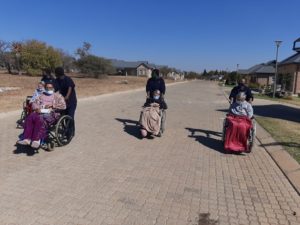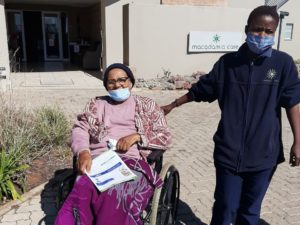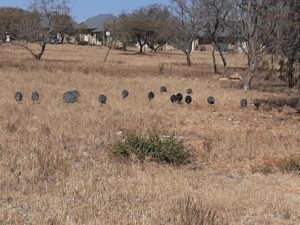 Portia is hard at work here in Polokwane but also taking the COVID-19 protocols seriously!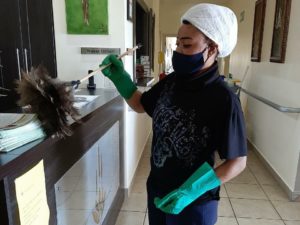 Peace of mind is knowing that your loved ones are receiving their medication and is administered by professional trained staff. Sister Elsie is busy sorting medication for our residents.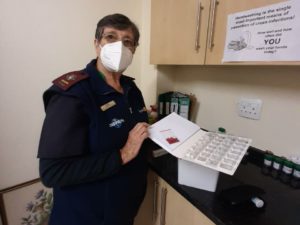 Nail care and foot care is the order of the day.
At Macadamia Care in Polokwane our Carers go the extra mile to love and care for our residents. Their hard work and vigilance in this difficult time, do not go unnoticed and we wanted to show our appreciation by treating them to a special lunch. Thank you for your dedication and commitment!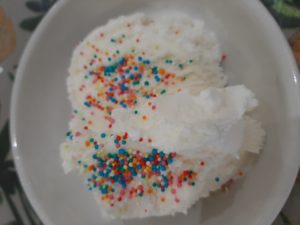 Have a look at these beautiful flowers from the family of Ms Marguerite Lombard to say THANK YOU. Ms Lombard passed away on the 18th of July 2020.
Thank goodness for technology especially in this time. Pictured here, one of our Carers helping our resident to Whatsapp call her family from a tablet.
Aux Audrey and our resident Adre are going for a walk – sweet, wonderful care….
To read more about our Care Centre at Macadamia in Polokwane, click here.
Currently our staff are operating under conditions that are much stricter than normal and are going to great lengths to protect both the residents in our care and our staff. To read more about measures within Care Centres during this lock-down period, click here.