As from Friday 27 March 2020, all South Africans have been restricted to their homes during the lock-down period. In a time like this, it is great peace of mind knowing that your loved ones are in a safe place. At Macadamia Care in Tzaneen – Limpopo, we thought we'll let you have a glimpse of what our staff and residents are doing in this time of isolation. Have a look.
Before the President made his speech on 27 March 2020, Tzaneen MacCare NPC was prepared with information for precaution of the Corona Virus.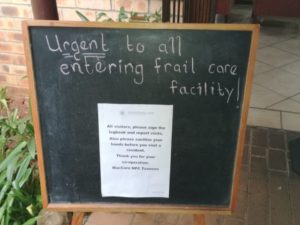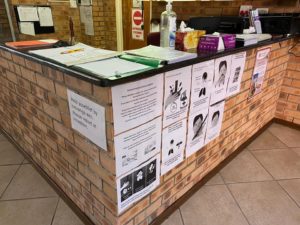 We are ready – Assisted Living lunches were delivered at their units, MacCare is following precautions.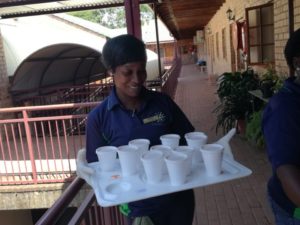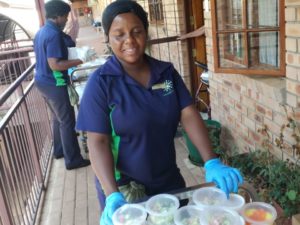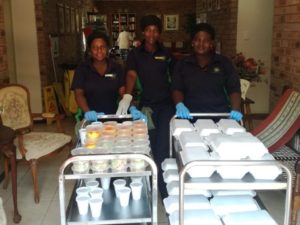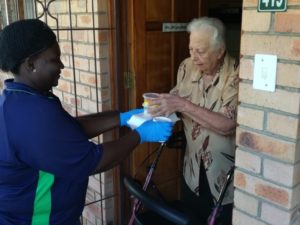 One of our residents is keeping fit during the lock-down. Dr Alex Revelas is 90 years old and very aware of the importance of daily exercise.
Our Care Centre residents also follow safe distancing during meals.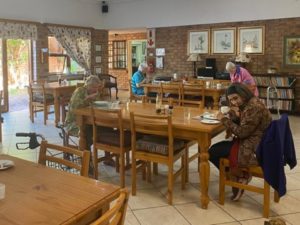 Reg Mayne and Biebie Warren are keeping their social distance, while gardening.
Tannie Lilian, Pops and Corrie are enjoying their early morning cup of coffee!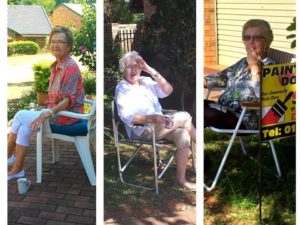 It is vital to stay active in this lock-down period. Pictured here, our care workers are assisting residents with their daily exercise. Care worker Connie is assisting Mr Marais in his apartment.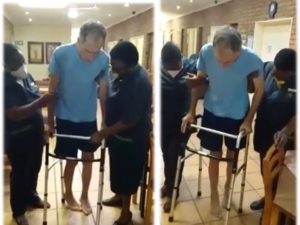 Staff at Macadamia Care in Tzaneen are a 100 percent dedicated to taking care and giving additional, tender, loving care to our precious residents.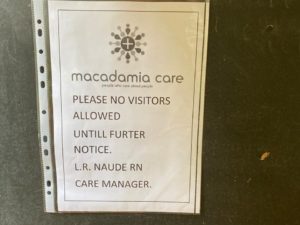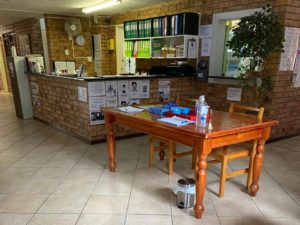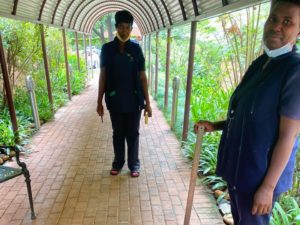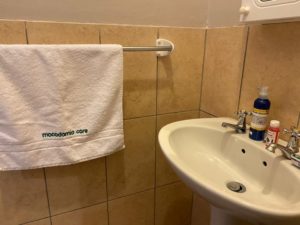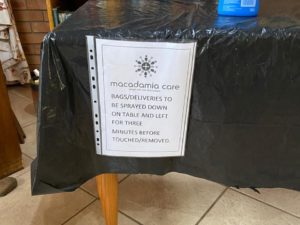 Rika, at Macadamia Care in Tzaneen, decided to bake her famous Banana Loaf. Have a look.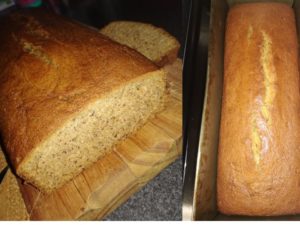 "Martin Dale Nursery has been very kind to Macadamia Care. He donated these beautiful seedling trays and we handed them out to our assisted living residents – they appreciated it so much! Martin your kindness and generosity made a difference in these challenging times. Thank you so much!"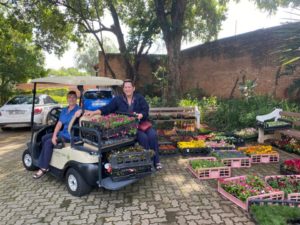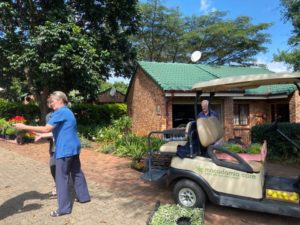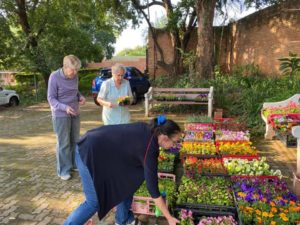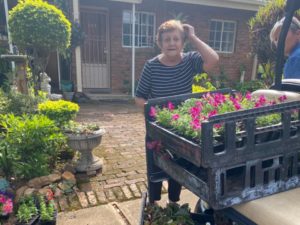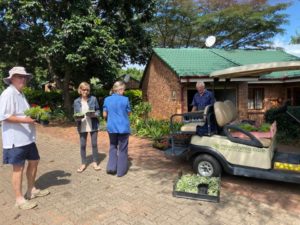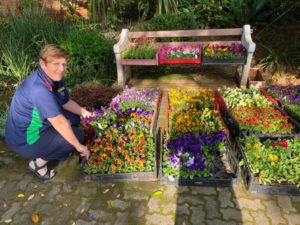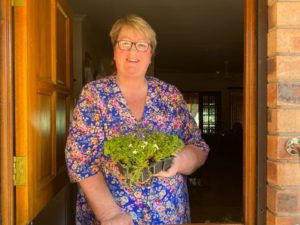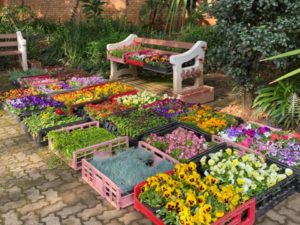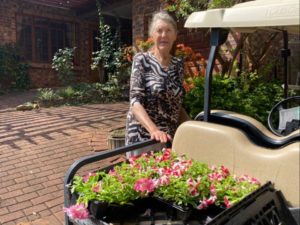 Rika wrote:  "When you have to improvise a birthday cake during lock-down…Hope it's going to be a great surprise and cheer her up, since she can't have a party. Home baked rainbow cake!"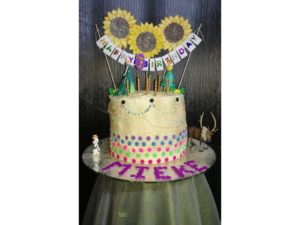 "Ms Amy Varkevisser & Care worker Connie Malesa are going for a spin around the village…"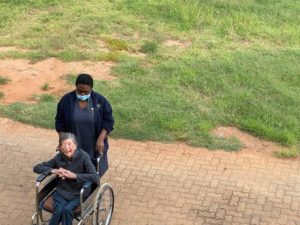 "Care worker Theresia Makgobola and Ms Shirley Harty together with Care worker Winny Mohononi & Ms Joey van Rooyen, are enjoying the fresh air."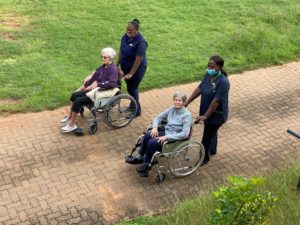 Rika: "A chilly morning in Magoebaskloof. God's creations, how beautiful!"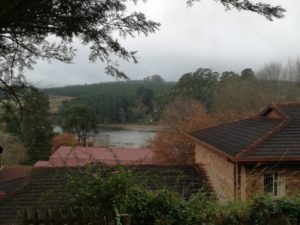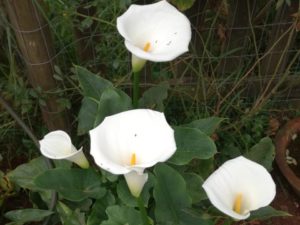 Rika and her family haven't forgotten that Wednesday 20 May 2020 was World Bee Day (Save the bees). She took this picture in her garden.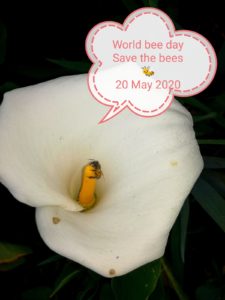 Our Care Manager – Sister Laureen, has a new pet. Can you spot it on her computer screen?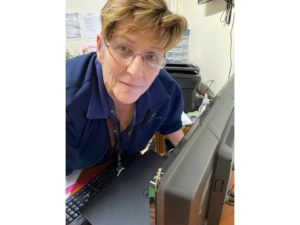 Oom Jokkie Richards turned 80 years old recently and he spoiled all the residents and staff with a cupcake. Thank you Oom Jokkie!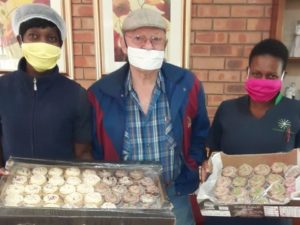 How blessed we are with this donation of furniture by Annelize Theunissen in Phalaborwa. Thank you so much Annelize, your kindness is appreciated by all the residents at Macadamia Care in Tzaneen!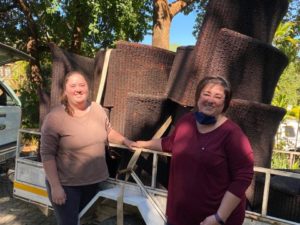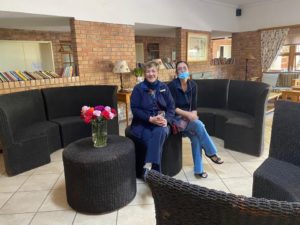 In this time of isolation, many of our residents have been busy in their gardens and also with their favourite hobbies. Have a look.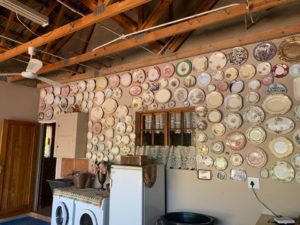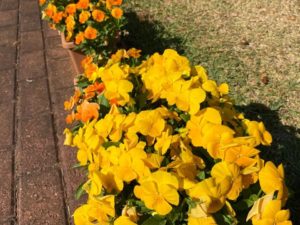 Look closely… After many a gardens ruined, we finally found the culprit right here at Macadamia Care in Tzaneen!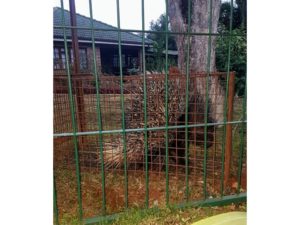 We all need our daily dose of Vitamin D.  Pictured here, our assisted living resident enjoying natural vitamin D on this beautiful day in Tzaneen.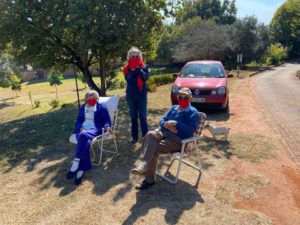 Acts of kindness beyond the call of duty never goes unnoticed at Macadamia Care in Tzaneen. We make sure our staff feels appreciated.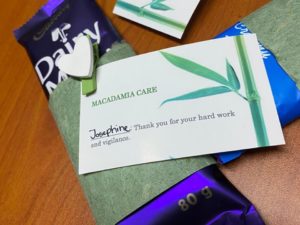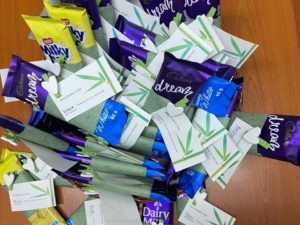 Covid19 awareness posters were donated to MacCare Tzaneen.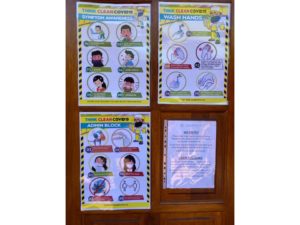 We might be under the shadow of COVID19, but life, love, care and maintenance go on… Pictured here – Proserv doing maintenance in the Care Centre.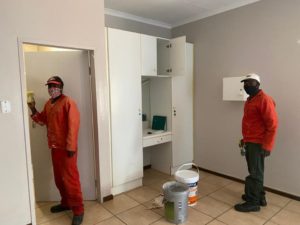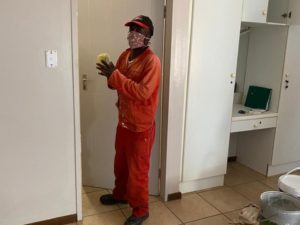 To read more about our Care Centre at Macadamia in Tzaneen, click here.
Currently our staff are operating under conditions that are much stricter than normal and are going to great lengths to protect both the residents in our care and our staff. To read more about measures within Care Centres during this lock-down period, click here.