As from Friday 27 March 2020, all South Africans have been restricted to their homes during the lock-down. In a time like this, it is great peace of mind knowing that your loved ones are in a safe place. At Macadamia Care in White River – Mpumalanga, we thought we'll let you have a glimpse of what our staff and residents are doing in this time of isolation. Have a look.
Our residents need to stay active and here one of our care workers – Busi, is doing some stretches to start the day.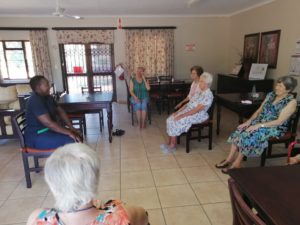 One of our Care Centre residents' daughter has been very busy making masks for our staff. She is an extra special lady as she has cancer but is keeping herself busy making masks between her chemo.
The kiddies and men's masks were made by Marinda Olivier – thank you so much Marinda. We are very grateful!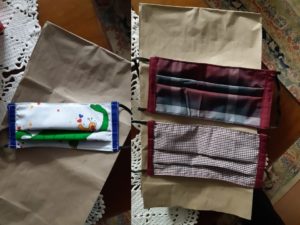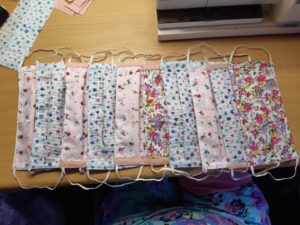 Our Care Centre Manager – Sister Kathy, went to check up on the village residents. Everyone is doing well and stay isolated!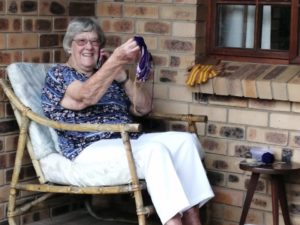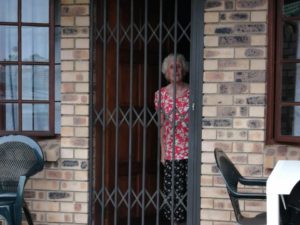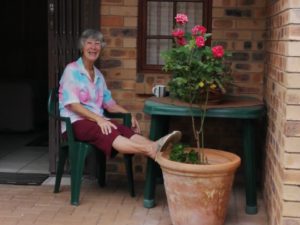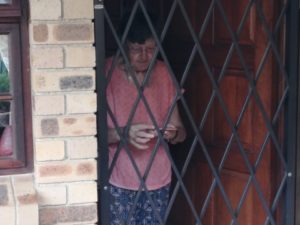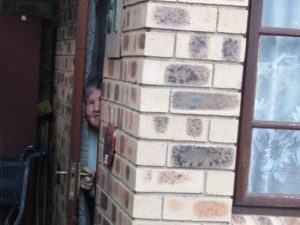 At the Care Centre our residents are being entertained by our care workers doing drumming!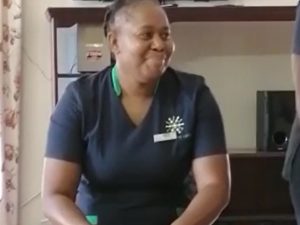 Residents at the Care Centre wanted to make sure that the message goes out: "Hi Friends and Family, we are well and happy!"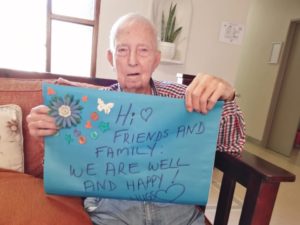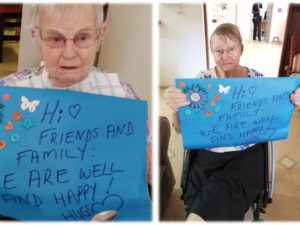 White River Care Buddies spread their love and although they couldn't come and visit us, they dropped some gift packs to let us know that we are in their thoughts!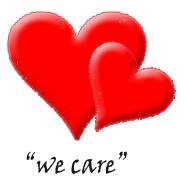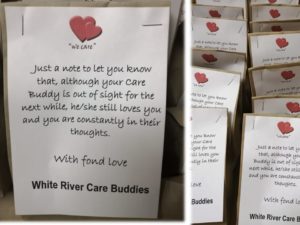 Sister Kathy de Beer on her way to work
Our Mascot doing the countdown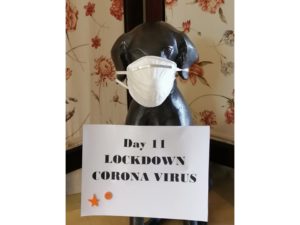 Our resident's vital signs are being checked.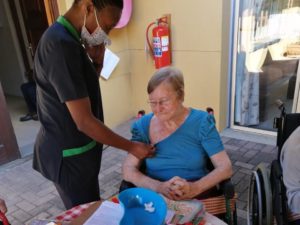 It is peace of mind being at Macadamia. Here one of our resident's medicine is being delivered to her.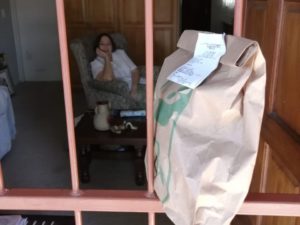 Gloria has a room with a view…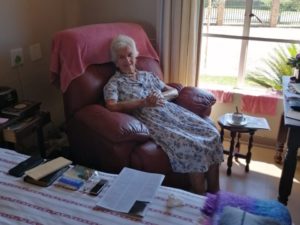 Sharon is listening to Opera and building puzzles.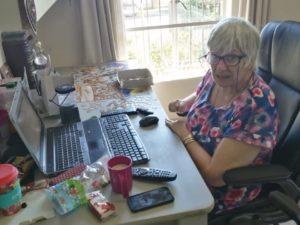 Mr Kramer is having a snooze, no sport to watch and he is very upset about it!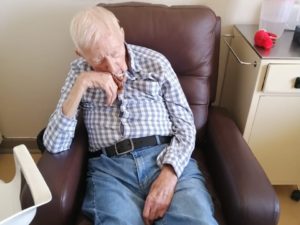 Mrs Raath enjoying her afternoon tea.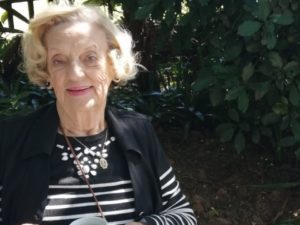 Joey Gouws spring cleaning… For the 3rd time!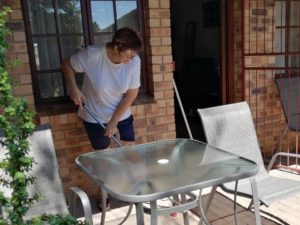 Bes Schuute is having tea with Mrs Nancy Raath under the shade of the Fig tree.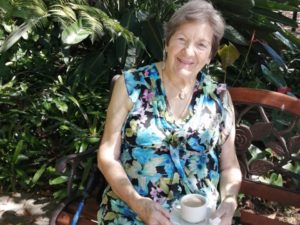 Mrs Botha hanging up her washing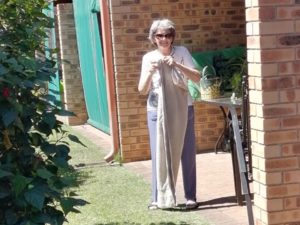 Surprise visitor during tea time. Was very curious!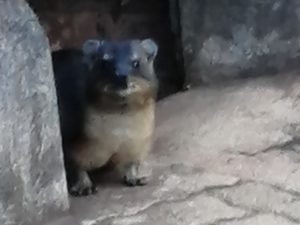 Ouma Chrissie is enjoying the sunshine.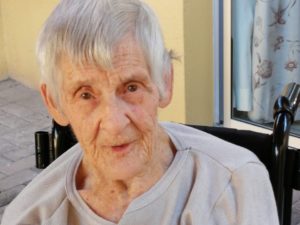 We are so blessed as Care Buddies delivered Easter Eggs for our Residents. Your kindness is so much appreciated!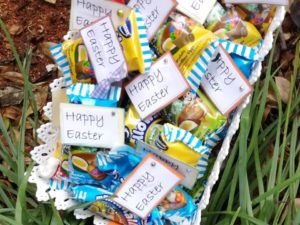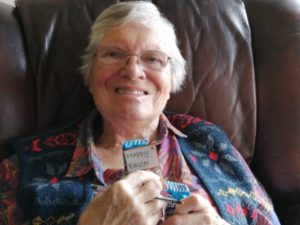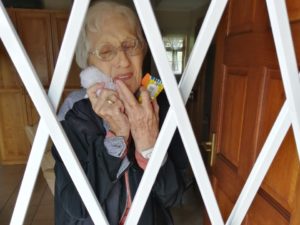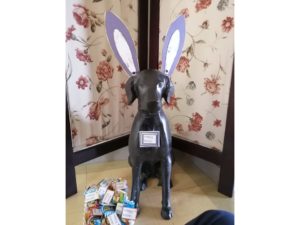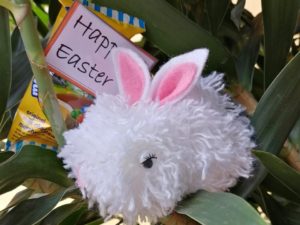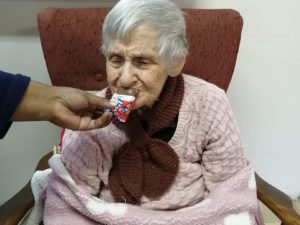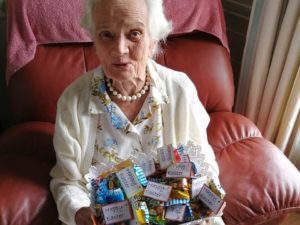 How generous is this…Plantsman in White River put these flowers out for passers by. Yesterday it was lettuce, 3 days ago it was avo's and prickly pears…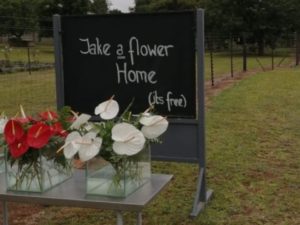 At Macadamia Care in White River, Rolleen decided to make some buttermilk rusks and delicious short bread.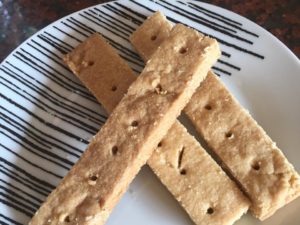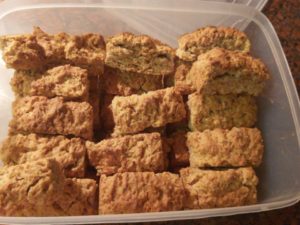 Mrs van Rooyen enjoying tea in her room.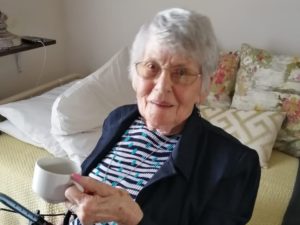 Mrs Roche feeding the birds.
We received an awesome donation of Easter eggs and Oreo cookies from POP warehouse. Thank you so much for your generosity. It is much appreciated.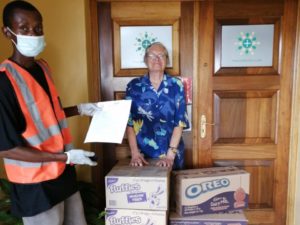 Mrs Sharon Vet keeping busy by building puzzles.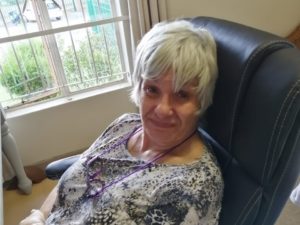 Manicures & pedicures during lock-down – absolute bliss!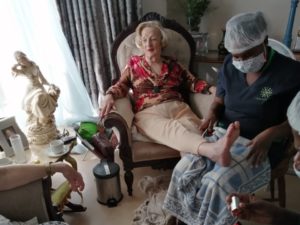 Mr Kramer getting some fresh air.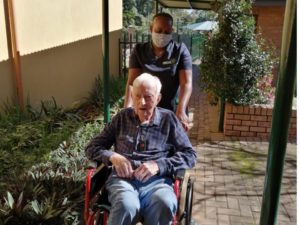 Mr Kramer is enjoying the sunshine.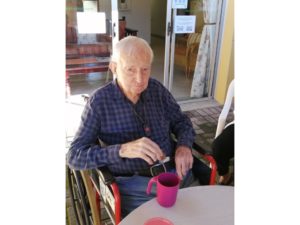 and some of us just prefer to stay indoors…
Mrs Antunes are enjoying tea and cookies on the patio.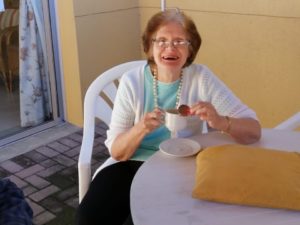 Mrs Vet getting her hair cut from Audrey.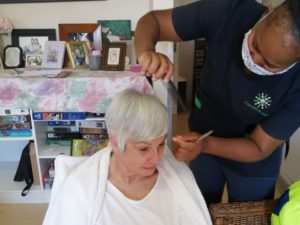 Exercise on the patio.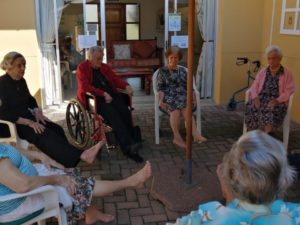 Dept of Health doing Covid-19 screening with Joy.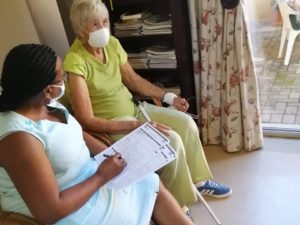 Oom Nic getting a flu vaccine from Dept of Health.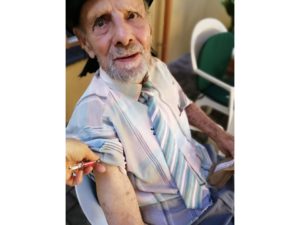 Mrs Nancy Raath is having a special lunch for her 93rd birthday. No lock-down blues today…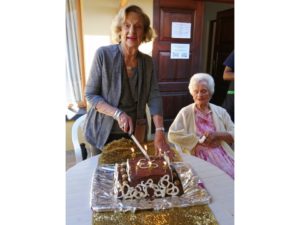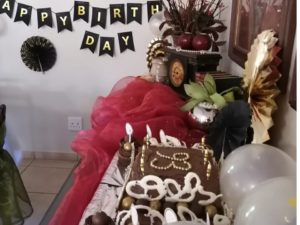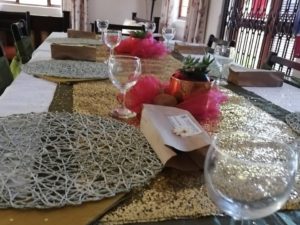 Mrs Sparrow getting birthday wishes from family via Skype.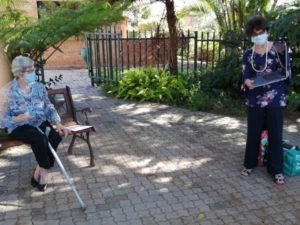 Guardian Angels made our day on Mother's Day! They dropped goodie bags for all our residents and we want to say a big THANK YOU FOR YOUR GENEROSITY. It is much appreciated!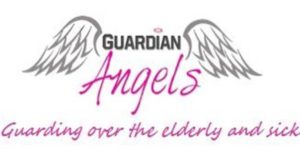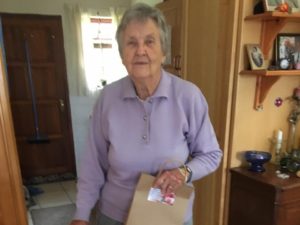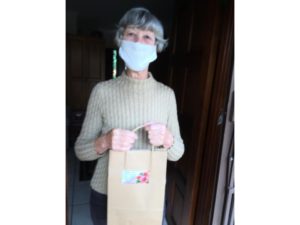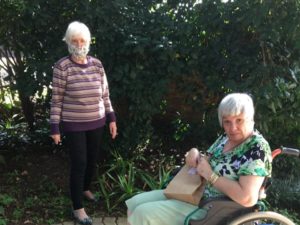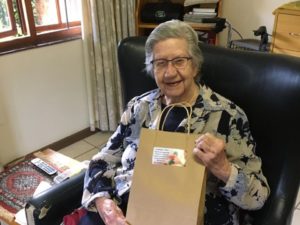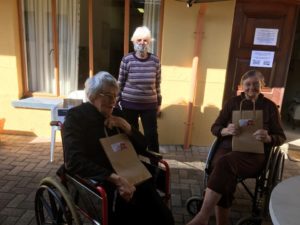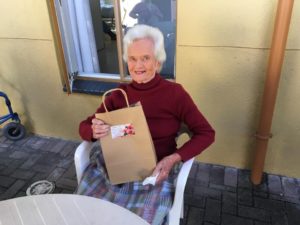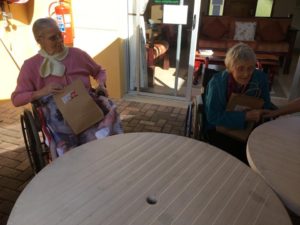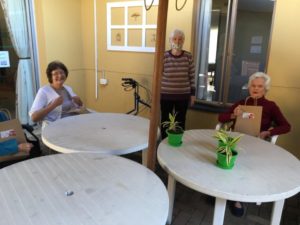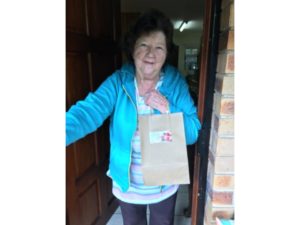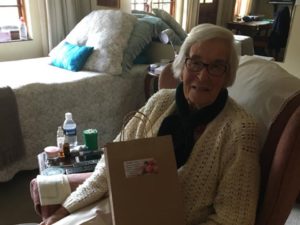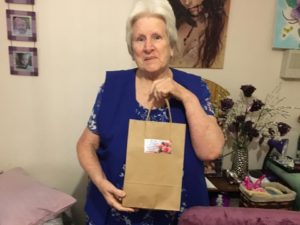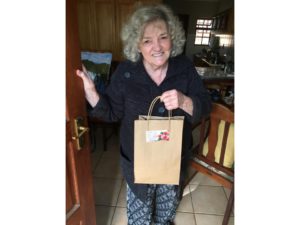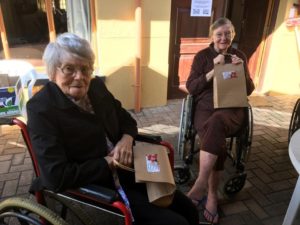 At Macadamia Care in White River we are so grateful for the awesome "WE CARE AND MISS YOU" gift bags from Care Buddies. Thank you for your kindness!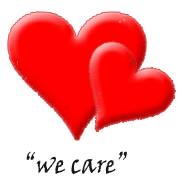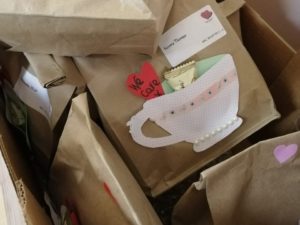 Thank you Mopani Phamacy for the thoughtful gift for our staff and residents here at Macadamia Care in White River – warm socks for winter feet!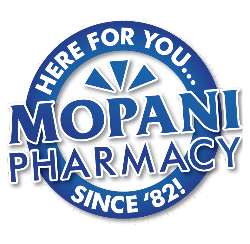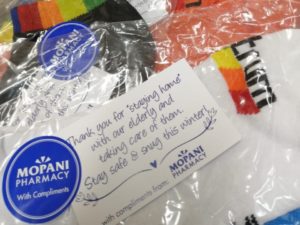 Our hairdresser at Macadamia Care in White River – Eileen, is back at work, under strict regulations. Big smiles from Mrs Antunes and the rest of our residents.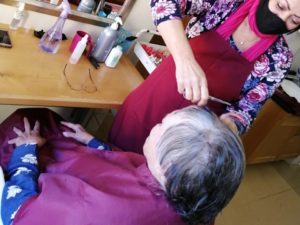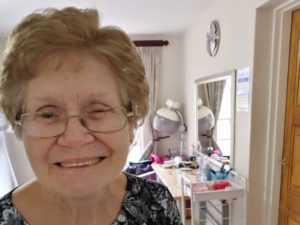 A cold front is on it's way and we're getting our residents all snug, warm and comfortable.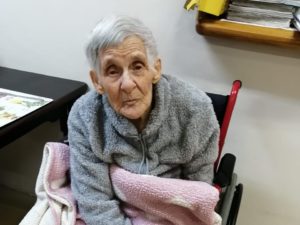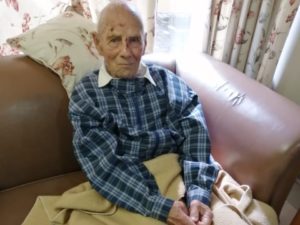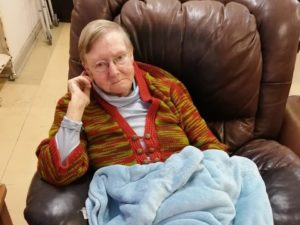 Can you spot the blue Smurf juice? This was a great topic of discussion at Macadamia Care in White River.
Mr and Mrs Rouvoet celebrated their sapphire wedding anniversary – 65 years and still going strong! They still adore each other…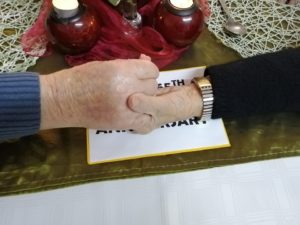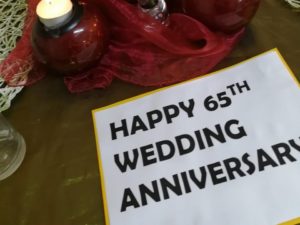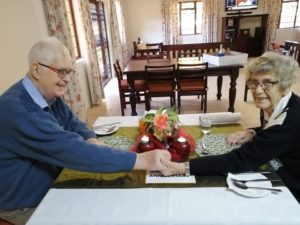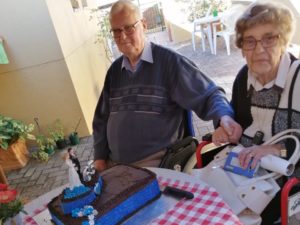 Here at White River Macadamia Care, Ilanga Catering spoiled us and we want to say THANK YOU for making our day a special one!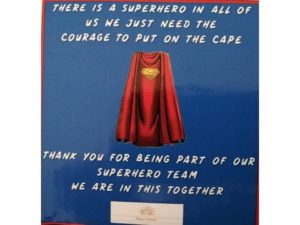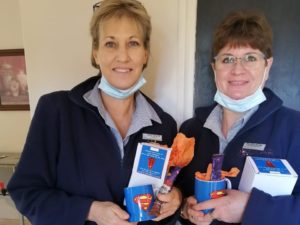 A big thank you to Mugg & Bean and Care Buddies for the coffee and muffins but mostly for thinking of us during this challenging time.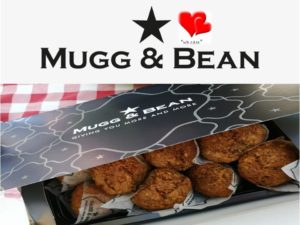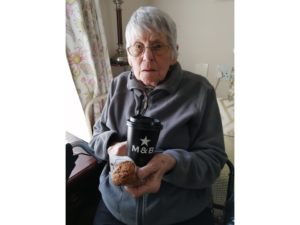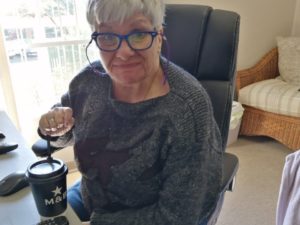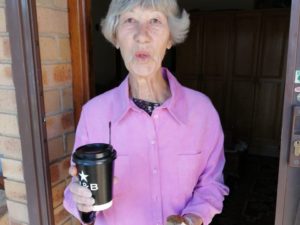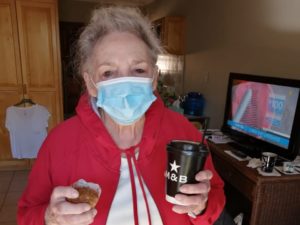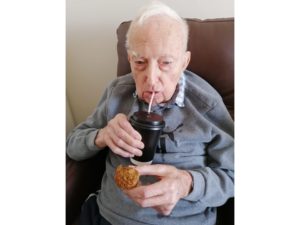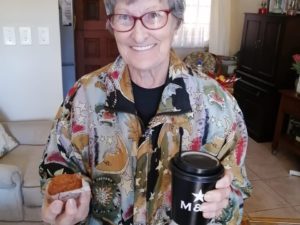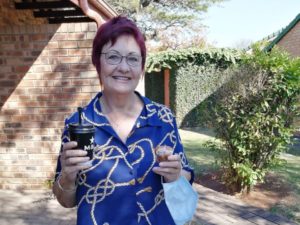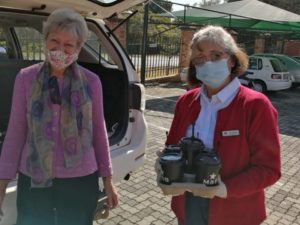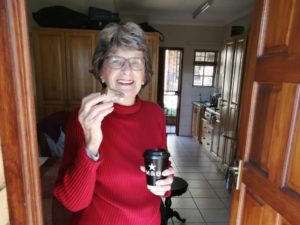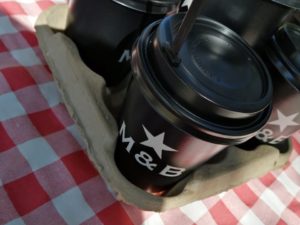 A big Thank You to Martie from Rich's Food Corporation for the generous donation of donuts to our residents. It is much appreciated!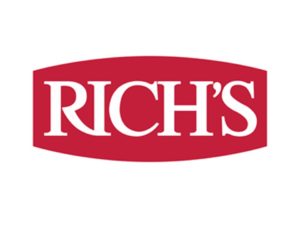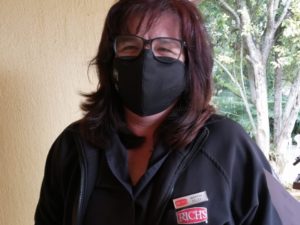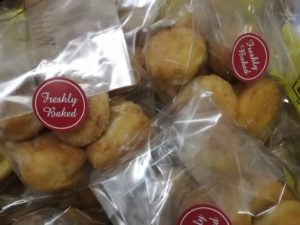 The resemblance is very accurate.. This so sweet Mrs Chaplin.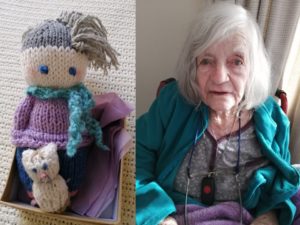 Thembi is responsible for taking care of our laundry and she made time to pick flowers for our residents. Thank you for your kindness Thembi!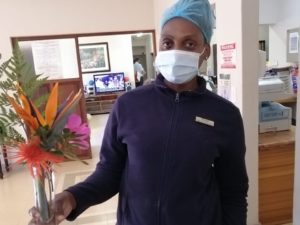 Nothing like a KitKat to cheer you up and forget about the lock-down blues!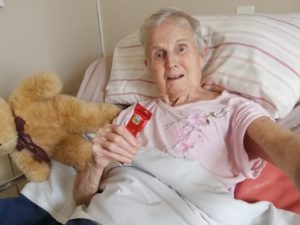 Do you know who is behind this mask and face shield? Yes, you are right – our very own Sister Kathy!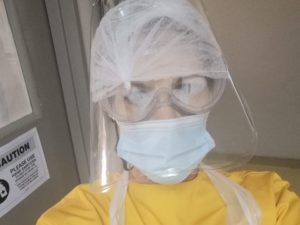 Thank you to White River Rotary Club's Joan van Zyl, for thinking of us.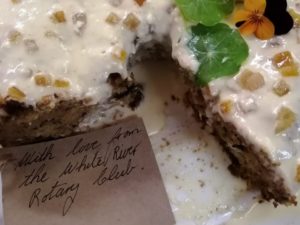 Thank you Catherine Masuku for 10 years of service and commitment to Macadamia Care. You are so appreciated!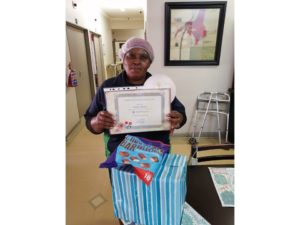 The quality of being kind and generous goes a long way. A big THANK YOU to you Douglas Boyce. We are so blessed with the donation of a Piano to the Care Center.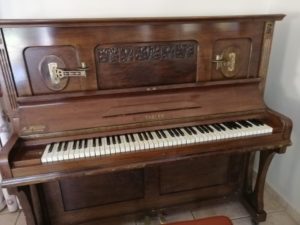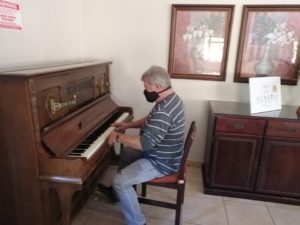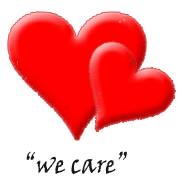 Care Buddies are busy again! They are spreading their love to the residents of Macadamia Care in Nelspruit.  Have a look…
To read more about our Care Centre at Macadamia in White River, click here.
Currently our staff are operating under conditions that are much stricter than normal and are going to great lengths to protect both the residents in our care and our staff. To read more about measures within Care Centres during this lock-down period, click here.