On the 1st of June 2020, I was celebrating two years of residency here, at Macadamia Care in Nelspruit, Mpumalanga, and I can honestly say that I have had two of the happiest years of my life since I moved to the lowveld.
I'd like to thank all the staff and all the wonderful people that live here that I call my friends, and for making life so great.
Covid-19 and lock-down has been tough on all of us. Then I came across this book that was written by a very good friend, author businessman, and strangely enough, one of South Africa's finest tennis players in the 60's and early 70's – Gordon Forbes.
Gordon wrote "A handful of Summers", a book all about the exploits of some of the tennis players on the pro circuit in those days. Entertaining it is and oozing with the wonderful Forbes humour.
If you feel down and out of sorts about things, just go back and read that little verse in his book "In the middle of a lifetime…" and soon it will brighten your day.
"In the middle of a lifetime
of days and nights
 Lets go back down the years
And recall if we can
All the warm temperate times;
You may find with surprise
That they are all squeezed in
To a handful of thoughts
And a handful of Summers."
Love you all!
Pat
Thank you to Pat Pretorius from MacCare Nelspruit for sharing this verse with us. Pat, you are a joy to all who interact with you. Thank you.
Just to give you a little background to Pat's life:
Pat was born, breed and educated in Bulawayo, in then Rhodesia. She came from a sporting and farming background. Both her parents represented then Rhodesia. Her Dad captained the cricket side and her Mum played Hockey for the country. Later on, her Mum also added a South African Bowls championship to her name.
School was Eveline High. Although she was happy at school, as soon as she matriculated and had done all she could at that level, Pat left school and turned professional and began travelling the world playing tennis. She did that for 15 years. Plenty happened in those years and what Pat did, learnt and achieved, would never have happened if she followed the conventional route most girls took when leaving school.
That wonderful afternoon in Johannesburg in 1972 when South Africa won the World Team Event of the Federation Cup was undoubtably, one of many highlights of Pat's career. She was ranked number one in South Africa for quite a few years and made it into the top 10 on several World Top Ten Lists.
In amongst all this, Pat got married to a South African in 1972 and lived in Johannesburg. In 1975 she retired from the game of tennis and started to coach – she did that for over 30 years. In that time, she also took up Golf and was fortunate enough to receive her Transvaal colours. And she still plays to this day.
Every second Thursday, At Macadamia Care in Nelspruit, we host "Down-memory-lane" / "Van-toeka-se-tyd" where residents revisit all the happy times in the past and share their stories. Click here to have a look at the album.
Pictured here – Pat sharing her life story with us.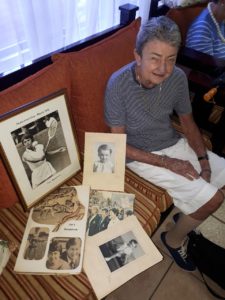 Located in the suburb of West Acres, this assisted living village takes special care to help its residents feel at home. This village boasts beautiful views, ample parking, and access to and from the apartments – or frail care rooms – made possible by paved walkways which wind their way through beautifully kept gardens.